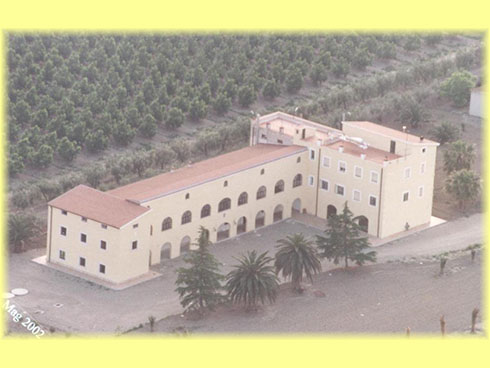 profile
The "Villaggio Sant'Antonio" Farm Holiday Establishment is located in the plains of Metaponto, at Policoro, one of the areas where the civilization of Magna Grecia or Greater Greece flourished at its best. Policoro is included in a strip of sandy beaches that stretches for 20 km from Metaponto to Novi Siri. This Farm is managed with an environmentally friendly policy to produce peaches, nectarines, apricots, oranges , lemons, tangerines, strawberries and olive oil.
Away from large towns and industrial areas, you are absolutely sure to spend a relaxing holiday at "Villaggio Sant'Antonio". Here you can enjoy unpolluted beaches bordering on old woods and lovely pine woods.
If they like, the guests can have lunch on the Farm at the Taverna della Bufalaria, where they can enjoy both local dishes and those of other regions.
The Farm Holiday Establishment is only 4 km away from the village, where they can visit the archaeological site with remains dating back to 680 B.C. and the well known Siritide Museum.
Metaponto is only 20 km away; this is the ancient Greek colony where you see the Palatine Tables as well as the temples of Athena, Afrodite, Apollo and Hera.
At Taranto (70 km away) you can see the museum of the Greek gold handicraft finds.
Only 70 km away there is also Matera with its rock dwellings that are included in Unesco World Heritage List and the wonderful, unique rock carved churches.
Proceeding along the Sinni River road, that links the Ionian coast road to the Salerno-Reggio Calabria motorway, you come to Tursi (20 km away), the old holding of the Doria family from Genoa; there you can see the old borough of Rabatana dating back to the times of the Saracen invasion of Lucania.
After about 10 km along the same road, you get to Valsinni with the old 1500 castle where the Lucanian poet Isabella Morra lived.
Driving on you get to the Montecotugno earthen dam forming a water reservoir of 500 million cubic metres.
Here you are already in the Pollino National Park, where you can photograph the last specimen of an endangered species of pine tree called pino loricato; here you can visit the tiny villages of San Costantino and San Paolo with the last communities of old time Albanian immigrants.
The plains of Metaponto today are seen as the garden of Europe and are the outcome of the victory of man and its technology over swamps and malaria.